One of the most anticipated attractions for TRON: Lightcycle Run that is currently being built right now at the Magic Kingdom in Tomorrowland at Walt Disney World that will be adjacent across from Space Mountain. The attraction was voted as one of the highest-rated E-Ticket attractions from Shanghai Disneyland by guests when the park first opened up in June 2016.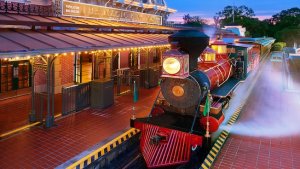 The Walt Disney World Railroad has been stationed since December 2018 at the Magic Kingdom.
Due towards the construction for the TRON roller coaster, the Walt Disney World Railroad was put on hiatus till the project is finshed that will be slated for Walt Disney World's 50th anniversary in 2021. Originally Disney announced last year the Railroad will be temporarily taking up residence at the Main Street Station in December 2018. Now it seems the hiatus for the railroad is extended "at least" till some point in October 2020.
Guests can still take photo opportunities in front of the train at the Main Street Station during this break because of the TRON construction. This is much similar when the Disneyland Railroad was hiatus due towards the track being modified because of the construction of Star Wars: Galaxy's Edge and the Rivers of America.
It's also because some of the tracks are being removed in Tomorrowland and will run through a tunnel system as indicated in the concept art shown down below, that was shown off at the D23 Expo 2019 this past August.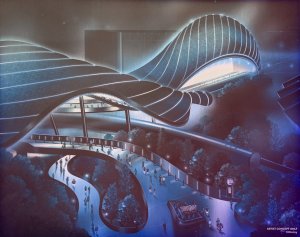 The tunnel system will be utilized for the Walt Disney World Railway with the Tron attraction above it.
No official reopening date for the Walt Disney World Railroad and stay tuned for updates until Disney officially announces it themselves.
Source: BlogMickey