One of Bravo Channel's most popular television shows, Top Chef, is officially headed towards Universal Studios Hollywood. This will commemorate the first ever 'Top Chef Food & Wine Festival.' This festival is set to run March 19th-20th, 2020. This will be a two-day culinary event, allowing fans to enjoy an all-inclusive menu inspired from the series. Guests will also be able to enjoy live challenges, food, and wine pairings, with Top Chef alums.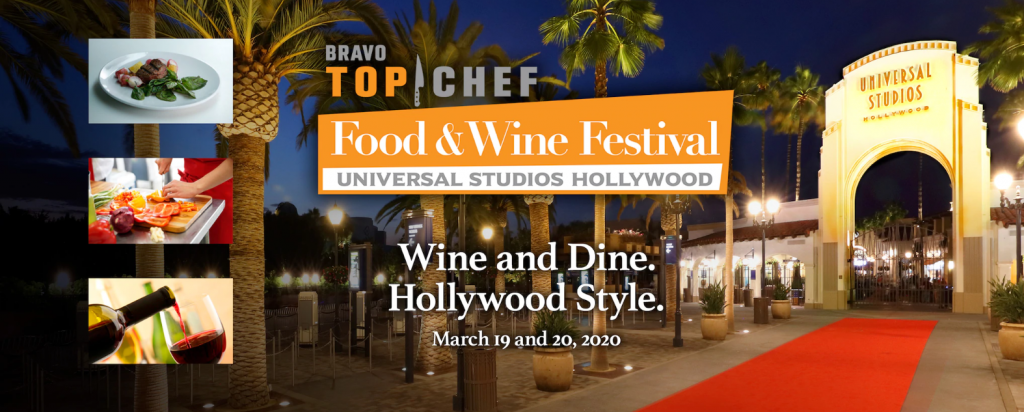 Here are the specific details in order to attending Top Chef's Food & Wine Festival; There is a general admission ticket to the event. Guests can also opt to purchase a premium VIP ticket, inviting them to experience opportunities such as exclusive tastings and wine pairing, hosted by a Top Chef alum. There will be meet and greets with the cheftestants, early access to the theme park, complimentary parking, and a special commemorative gift.
Karen Irwin, President & COO, Universal Studios Hollywood:
"We are thrilled to partner with Bravo's 'Top Chef' to introduce this exclusive Food & Wine Festival. As an industry leader, we take as much pride in our culinary offerings as we do with our innovative rides. We're excited that our Executive Chef will have the opportunity to collaborate with these acclaimed 'Top Chef' Alums to create this unique food and wine event. We look forward to toasting the occasion with our guests."
Ellen Stone, Executive Vice President, Marketing, Lifestyle Networks, NBCUniversal also addressed:

"Bravo's Top Chef Food & Wine Festival will give guests an opportunity to interact with their beloved chefs and try the culinary feast firsthand while also giving them a glimpse at the pressure the competitors face in the kitchen with the Quickfire Challenges," said "Partnering with Universal Studios Hollywood is a natural extension of our brand and offers our incredibly engaged fans of Bravo's 'Top Chef' a unique chance to taste and experience a piece of the hit culinary competition series."
To learn more and purchase tickets for the Top Chef Food and Wine Festival, visit the link here.
Source: Bravo