One of the most ambitious attractions that is coming all the way from Shanghai Disneyland towards Disney's Magic Kingdom at Walt Disney World is the TRON Lightcycle Run roller coaster. This was voted as "the highest rated attraction" when Shanghai Disneyland first opened up in June 2016. The attraction is gearing up in preparation for Walt Disney World's 50th anniversary in 2021.
However, for this week a big milestone for the attraction at the Magic Kingdom in which the final piece of the track for TRON Lightcycle Run. This topping off of the track is a important part of the project in showing of how far the project has come along. The last piece is the connection of the exterior loop towards the show building when the first piece of the track was installed earlier this year, 5 months ago.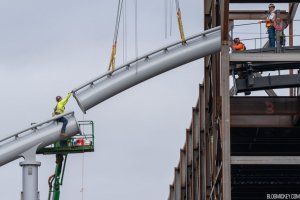 Walt Disney Imagineering installing the final piece of the TRON Lightcycle attraction. Image: (© BlogMickey)
Vekoma the Dutch manufacturing company is still doing the same project build for the Magic Kingdom version as well at Walt Disney World.
The speeds of the TRON attraction at Shanghai Disneyland reaches up towards 60 miles per hour and should be the similar speeds when it opens up for the Magic Kingdom in 2021. As this one of the most fastest roller coasters that Walt Disney Imagineering are building of any kind.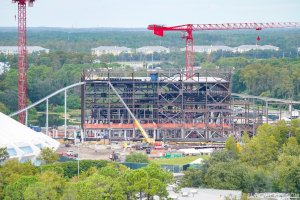 Overview of "The Grid" show building for the TRON Lightcycle attraction. Image: (© BlogMickey)
TRON Lightcycle Run will consist 3 components for the attraction in which will be the Sync Chamber, Launcher-Upload Conduct and the Grid.
The Sync Chamber will be the launch portion of the attraction and sending guests at high mile speeds and which will transition towards the Launcher-Upload Conduct that is the whole big canopy outside that was collaborated between Walt Disney Imagineering and Grimshaw. The final component is the Grid as the giant show building of where you compete against the other lightcycles before heading back towards the real world.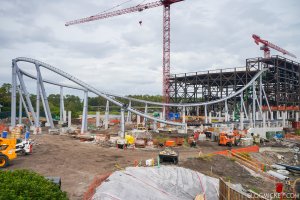 Side-wide angle of the TRON Lightcycle attraction connected towards "The Grid". Image: (© BlogMickey)
Due towards TRON construction in which unfortunately the Walt Disney World will still remain on hiatus till "at least" October 2020 and has been stationed since December 2018. It will utilize a tunnel system since the TRON roller coaster is above it in Tomorrowland.
Check out the previous video for the construction back in May of this year for the project and how far the project has come since then!
Source: BlogMickey